---
---
---
Nov, 7 - 10 & 14 -17, 2019 - $22. seat
Thursday to Saturday Evenings at 7:30pm and Sunday at 2:00pm
---
A laugh out loud comedy about love, relationships and communication. Norman and Ruth attempt to rekindle their marriage. The plan, return to a place where they remember being in love, The Bear Bones Family Campground. Arriving late, they wake to discover that the campground has changed over the years too!
---
---
---
---
Feb 6 - 9 & 13 - 16, 2020 - $22. seat
Thursday to Saturday Evenings at 7:30pm and Sunday at 2:00pm
---
Sarah, a turkey farmer, has just left her husband and moved back home to live with her mom Gail. Despite the fact that she's a divorcée of twenty years herself, Gail isn't exactly providing the sympathy Sarah needs. Gail's a beekeeper and she has other things to worry about—like why her honeybees are dropping dead. Then there's Earl: Gail's neighbour, farm tenant, and the ex-husband of Gail's ex-husband's new wife. In these past twenty years, he's been keeping himself mighty busy with the ladies, but Gail has just never really got back on that horse…so to speak. And finally, there's Ben: an athletic 23-year-old Masters student, here to study the collapsing bee colonies. Secretly still a virgin, he's about to get a big lesson in pollination…if you know what we mean.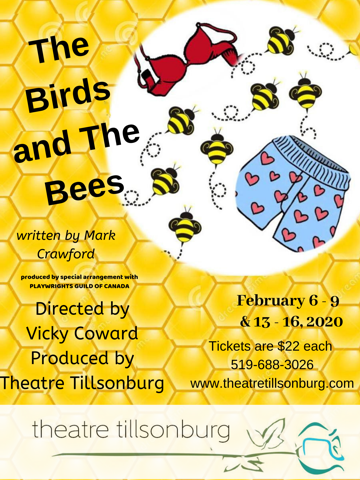 ---
---
Written By Catherine Johnson
and Lyrics By Benny Andersson and Björn Ulvaeus
---
April 30 May 1 - 3 & 7 - 10, 2020 ~ $27. seat
Thursday to Saturday Evenings at 7:30pm and Sunday at 2:00pm
---
ABBA's hits tell the hilarious story of a young woman's search for her birth father. This sunny and funny tale unfolds on a Greek island paradise. On the eve of her wedding, a daughter's quest to discover the identity of her father brings three men from her mother's past back to the island they last visited 20 years ago.The story-telling magic of ABBA's timeless songs propels this enchanting tale of love, laughter and friendship, creating an unforgettable show. A mother. A daughter. Three possible dads. And a trip down the aisle you'll never forget!
---