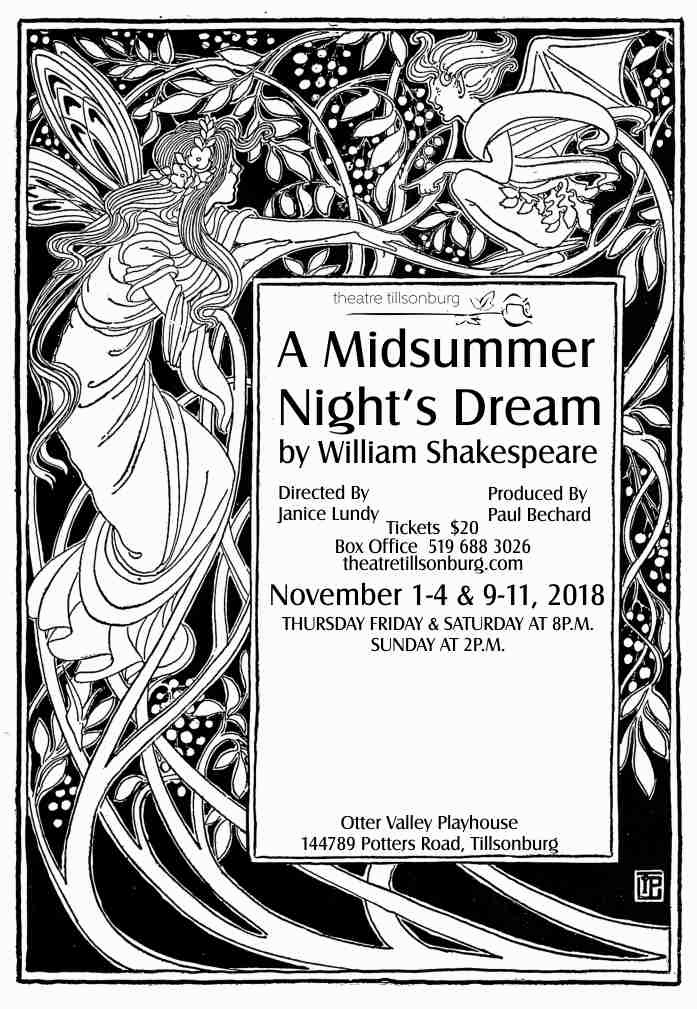 ---
A Midsummer Night's Dream
November 1-4 & 8-11, 2018
---
On a Midsummer's night, four young lovers find themselves wrapped in the dream-like arms of an enchanted forest while the Fairy King and Queen square off against each other. The course of true love is anything but smooth, and games of fantasy, love and dreams ensue in Shakespeare's most beguiling comedy.
---
---
February 7-10 & 14-17, 2019
---
It's the day after the funeral of a friend, and three women gather for a round of golf in honour of their recently deceased playing partner. They are joined by a fourth woman, another old friend of the deceased that the other three didn't know about. Many surprises, secrets and confessions come to the surface during this hilarious and heart-warming round of golf.
---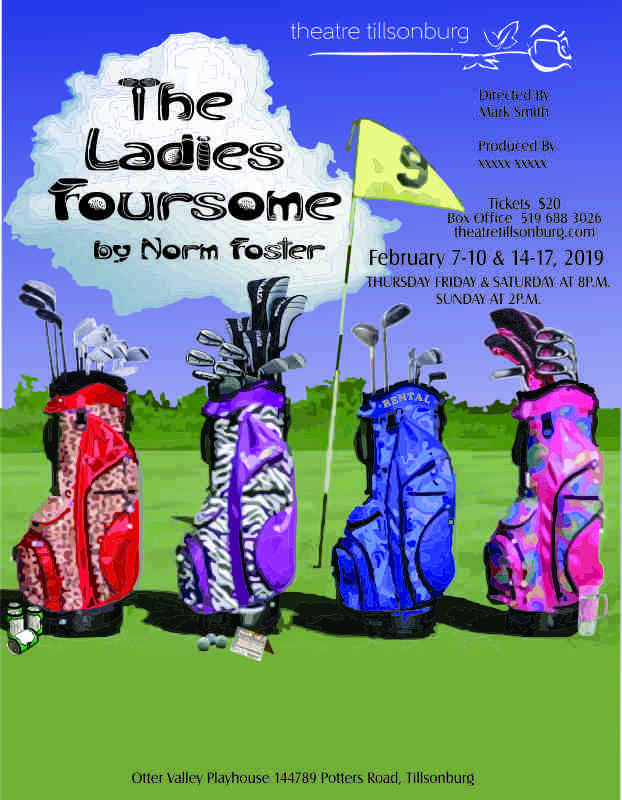 ---
May 2-5 & 9-12, 2019
---
On the night before their wedding, Maddie and Donald have planned a quiet evening for themselves. There's a snowstorm outside but inside, everything seems perfect. Then just as this idyllic evening begins they are interrupted both by her divorced parents and then her ex-husband. As the night progresses the situation develops from the sublime to the ridiculous as love rears its ugly head in some unexpected ways.
---
National Theatre School Drama Festival
(formerly the Sears Drama Festival)
for the Brant, Oxford, Haldiman & Norfolk District
will be held here at Theatre Tillsonburg March 4-7, 2019
Tickets are $5 each. Limited seats will be available to the public. Shows start at 6 pm. Tickets available through theatretillsonburg.com and our box office. If you would like to volunteer during the week, please email us at volunteer@theatretillsonburg.com
June 13th to 15th, 2019 at 8:00 pm
House is a one man show about Victor, a man on the edge struggling with depression, desperation, and endless rage. Having been dealt a terrible hand in life, he wrestles with how to continue on — when the world hates you, where do you go? Victor searches for an answer to this question in Daniel Macivor's grand epic, House. Warning adult content and language.
The Night Chicago Died
Fri, Jul 19th and Sat, Jul 20th, 2019 at 7:00 pm
Sun, Jul 21st, 2019 at 4:00 pm
This is a musical comedy. It takes place in Chicago in 1931 with Elliot Ness and The Untouchables of the FBI who lock horns with gangsters Al Capone and "Bugsy" Moran over a shipment of illegal hooch being shipped to Chicago by a Tillsonburg Bootlegger who goes by the name of "The Godfather". The action takes place in "Rick's Cafe" (from the movie Casablanca)